Measuring the height of a tree?                    Try Codimex-H App now!
Dear Sir or Madam! We would like to inform you that currently, we offer Codimex H application with a 10% discount.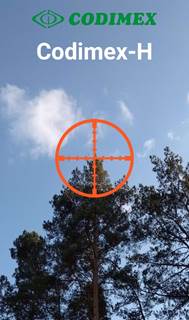 Application Codimex H is used to measure the height of trees using the camera on your smartphone. The application works on smartphones and tablets with the Android OS an gyroscope.
Advantages of Codimex-H application:
– possibility to measure the height of trees on various terrains;
– intuitive interface;
– possibility to save and send measurement results;
– possibility to test the application with a 14-day demo.
In case of questions regarding price, quantity, design and colour, please contact us by phone at number 22 861 94 45 or e-mail codimex@codimex.com.pl.
We invite you to take advantage of the promotion!