Codimex E1 + Wood Magazine App = efficient work on the sawmill
Dear Sir or Madam! We would like to inform you that currently, we offer electronic caliperCodimex E1 and a Wood Magazine application with a 10% discount.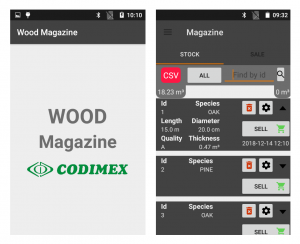 The Wood Magazine application will make your work in the sawmill more efficient, support the timber records in the warehouse and facilitate the process of selling wood to customers.
The diameter of the wood is measured using an electronic caliper and its value is sent to the application via Bluetooth. Furthermore, using a barcode scanner on a smartphone (or using a portable scanner), you can quickly and easily enter data into the software.
Advantages of the Wood Magazine application:
– the data can be exported in the form of an Excel file;
– the parameters of the measured wood can be edited at any time;
– you can add, edit or delete your measurements.
Electronic caliper CODIMEX E1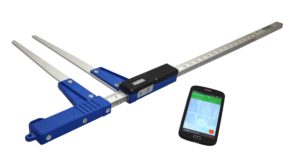 Electronic caliper CODIMEX E1 is a practical and affordable measuring device which communicates with the user`s smartphone. It allows you to store measurement results and then easily send them over the Internet, via Bluetooth or USB cable to your computer.
Advantages of Codimex E1 caliper:
– easy to use and maintain;
– you can use it with your personal smartphone or a tablet;
– light and easy to carry around;
– increases efficiency of measuring process;
In case of questions regarding price, quantity, design and colour, please contact us by phone at number 22 861 94 46 or e-mail codimex@codimex.com.pl.
We invite you to take advantage of the promotion!