Electronic CODIMEX E1 – Your forest assistant!
New solution for forest measurement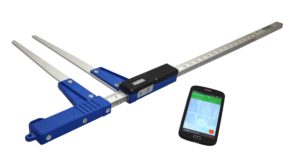 Electronic caliper CODIMEX E-1 is a manageable and low-priced measuring device which works together with a user smartphone. You can use any Android smartphone. Caliper contains electronic ruler and communicates via Bluetooth with your smartphone on which is installed chosen by you application for forestry measuring. Measurement results are stored in your smartphone measurement and can be easily sent over the Internet, via Bluetooth or USB cable to your computer.
Advantages of the solution:
You are working on device which you know – your personal smartphone on which you read, collect and send the measurement results. At your request we will select for you also smartphone: the low-cost one or industrial device designed for use in difficult conditions, with a barcode scanner and other options to facilitate forestry measuring.
Using your smartphone – you can attached it to special holder installed on the caliper, attach to the arm by special armband, put it into tool belt or simply into your pocket – chose the most comfortable for you option.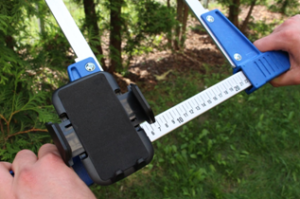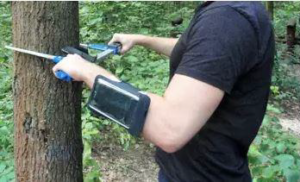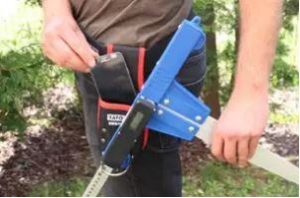 Use the best and selected by yourself application for measuring with caliper CODIMEX E-1. If you want, on your smartphone you can install several applications. In case of the development of the application, it's very easy to install upgrade on smartphone.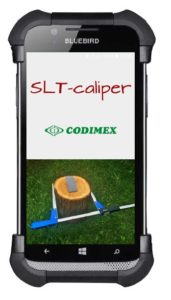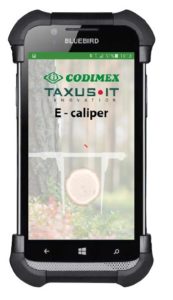 Applications allow you to work in one of selected languages: English, French, Italy, German, Polish, Romanian, Ukrainian, Russian, Portuguese, Spain and Turkish.
You have a choice: you can work with a simple application or use the application which allows you to prepare your own project and use it. You can also ask to develop application especially for you – we will prepare it and send you to install.
The device carries out measurements in centimeters or inches, with a resolution of cm or mm depending on the producer settings.
The results of the measurements you can immediately send by e-mail to your computer or do it via Bluetooth or USB cable after you return to the office.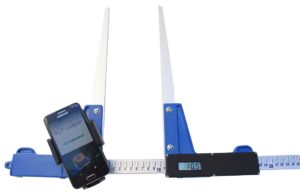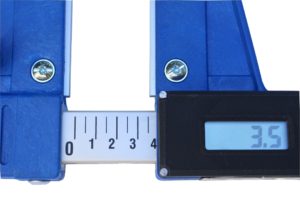 Applications
All mentioned below applications work with electronic caliper Codimex-E1 and can be installed on any Android smartphone. You can choose application concerning the type of work you want to perform:
Application E-caliper – Universal application for forestry measuring and other kind of research projects. It has opened structure – user can create his own projects and decides what parameters will be contained therein (e.g. tree species, diameter, height, etc.). User decides which values should be introduced to the app by using caliper CODIMEX-E1, and which entered manually. The values of measurement are sent from caliper to the application by Bluetooth. Data can be easily generated as an Excel file and sent to the computer or other device.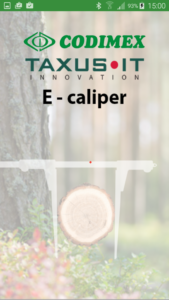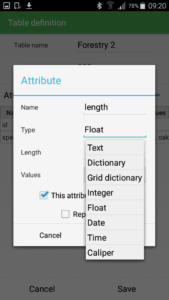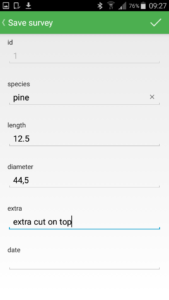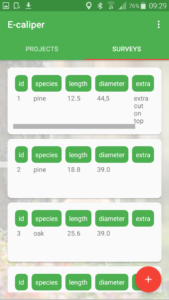 Application SLT-caliper – application designed for measurements of standing trees and lying wood. User can select option of measurement and then enters the forest address, species, and assortment and may proceed to work – measurement values are automatically transmitted from caliper CODIMEX E1 to the application. User has the ability to edit the list of species and assortments. In the option for lying tree measurements you can chose what you measure stacks or logs and you can also calculate thickness of the wood. Data can be easily generated as an Excel file and sent to the computer or other device.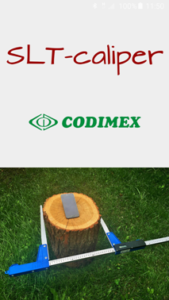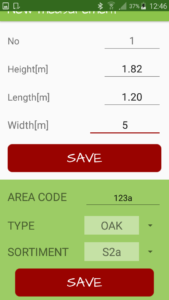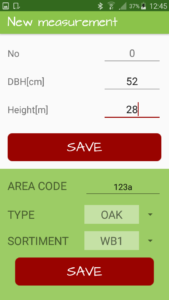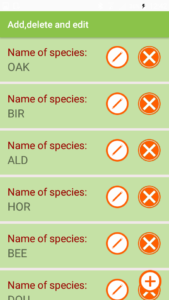 Demo version
Demo version allows user to check the functionality, structure and simply – how to work on applications. In demo version of E-caliper we are able to work for 30 days. In demo versions of SLT-caliper and Log-caliper on trial versions we can do 20 measurements to test applications. To activate the full version of the application you should purchase a license key for the application. You can also do it by purchasing electronic caliper Codimex-E1 or Codimex-E1-Log (price of electronic caliper includes a license key for one selected application).
Get free trial versions of the E-caliper (free 30-day trial) and SLT-caliper (20 free measurements) and check advantages and how simple it is!
All operations related to the caliper Codimex E-1, the pairing caliper with smartphone, copying data to the computer described in each user manual.
Measurements
Before you will start measurements you should pair caliper with your smartphone (all the steps described in each application's manual). You should also remember to turn on your Bluetooth in your phone settings and select the option in which your phone is discoverable for other devices. If all those steps have been done correctly, turn on caliper and you are ready to work. Depending on the application, you should introduce the basic measurements parameters and the device is ready to work (see the relevant application instructions). To be able read the data directly on the smartphone you should install on you smartphone application which allow to read files such as Excel.
Data transfer
Depending on how the data will be transferred you should do several things. Make sure that your computer has a built-in Bluetooth module that enables the data reception. Turn on Bluetooth in computer settings and select option that make your computer discoverable for other Bluetooth devices. In case of data transfer via the USB cable, check whether your computer has a properly working USB port. In case of data transfer via the Internet (e-mail), make sure that your computer is connected to the network.
Data transfer to the computer:
Steps of preparing the data transfer from your smartphone to the computer can be different depend on the method which you chose:
If you send data via the Internet / e-mail, make sure that your phone has access to the network and your mailbox allows to the send a message with an attachment. In this option, you just go to the mail outbox and creating a new message, then you selected the requested data from your phone and attach it to the e-mail (storage location may be different depending on the smartphone model) after it just send a message with attachment. Then open an e-mail with attachment and save it on your computer.
For sending measurements by using Bluetooth, make sure that devices are able to detect each other. Then the two devices must be paired- check the Bluetooth settings on your computer and on the list of available devices click for interesting device. To do this, follow the instructions on the computer screen (pairing process and display tips can differ from each other depending on the model and manufacturer of your computer). Then find the requested data on the smartphone and send it by using Bluetooth option. Just select your computer from the list of available devices, and send your data. It is very possible that you will have to accept the reception of the data at your computer- some devices require approval when sending data.
In case of data transfer via USB cable, connect the smartphone to the computer with a USB cable and then on your computer find a smartphone and the requested file with data and copy it to save on your computer.